A Vietnam company announced the success in the artificial cultivation of cordyceps under the commercial product form.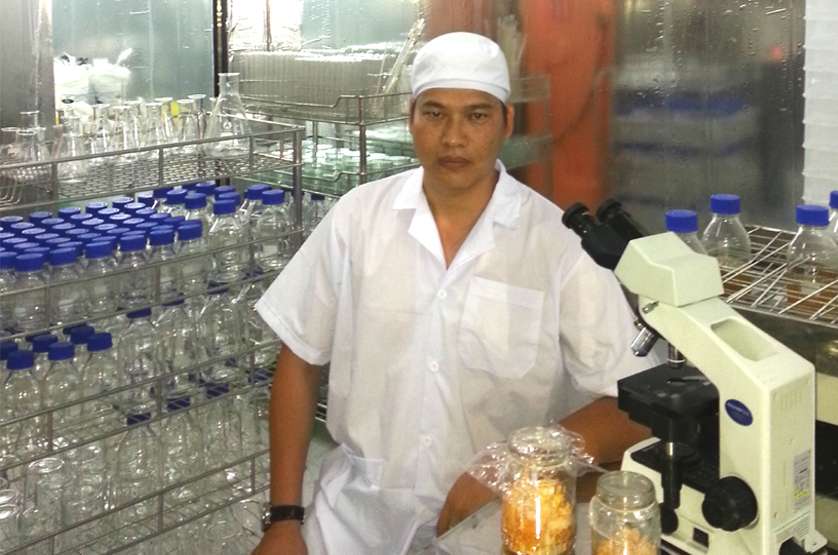 Mr Hue at the lab of the farm
Cordyceps is a wonderful gift from nature for the human. However, cordyceps in nature is becoming exhausted because of the excessive exploitation and the amount of cordyceps in nature is not capable of meeting the using demand, so the selling price is extremely high: 315 - 840 million VND/kg of the dried cordyceps according to the market price.
Knowing the true value and the importance of cordyceps, Mr Do Van Hue (Cai Lay town, Tien Giang province) bravely researched, invested in establishing HIMA Cordyceps Corporation.
Mr Hue 's company is one of the vanguards in the successful cultivating model of cordyceps in Vietnam and been granted the first quality certification in the US.
On the area of 2000 m2 located Lai Thieu ward, Binh Duong province. Mr Hue has invested in constructing the cordyceps cultivation house base on Class 100 Cleaning Standard. the fresh air system is designed to guarantee the environmental temperature of cordyceps cultivation always is low as -2C. The air is brought into cultivation house by AHU and FCU systems. The outside fresh breeze is filtered through three levels of filter then be cooled down to required temperature and the humidity is balanced to meet the growing and developing conditions of cordyceps is provided into the cultivation house via two levels of filter.
HIMA Cordyceps Corporation has researched and cultivated successfully cordyceps in the advanced artificial conditions which is simulated according to the natural living condition (winter and summer) so the cordyceps still maintains the useful medical elements same as the wild cordyceps, contributes to helping consumers reach chances to upgrade the life quality.
Cordyceps is a kind of fungus which parasited on worms, on the high mountain areas at 3000 - 4000m height from the sea level in the Himalayas, Tibet, Yunnan, Gansu ...
In the winter, the cordyceps spores infect on worms, the infected worms will die and they cordyceps spores will grow up and develop by absorbing the nutrients from the worm's body. In the summer, when the temperature warms up, the cordyceps fungus will emerge out of the ground and transform into the fruit form. Therefore, the cordyceps is called as "Winter Worm - Summer Grass".